29 avril 2010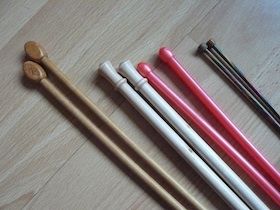 Socks, socks, socks...
Socks are among favorite projects of knitters I admire : I stay mouth open in front of my computer each time my "Ravelry friend" Lori from New-York knits a new pair. Each time different. Each time gorgeous.
But it seems so spectacular to me that I'm still waiting to get started.
Of course I bought the Ann Budd's essential : Getting started knitting socks. But learning about socks in a language tha'ts not mine.... arrgh !
Fortunately, my friend Gaëlle published a book in French a few weeks ago : Chaussettes faciles. (That is to say Easy socks).
Easy peasy?
Knitting socks will be one of my future new skill then. Fingers crossed!
Commentaires sur One new skill